Group Support Award for our St

Austell

's Apprentice Joe Thompson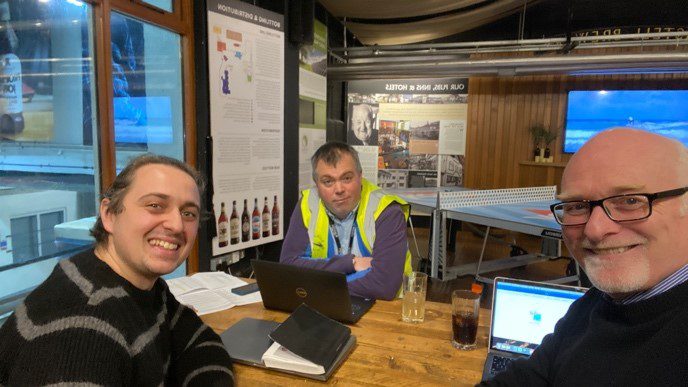 Pictured from left to right – Award winner Joe Thompson, IT Manager Matt Mitchell and IT Tutor Mike Collings.
At Ginger Nut, the ultimate goal is to see our apprentices succeed. That is why we are so enormously proud of our apprentice Joe Thompson.
Just 6 months after starting his ICT apprenticeship at St Austell Brewery, he has already been offered a full-time role within the company. And to top it off, he's also been presented with an award!
What a superstar!
His delighted tutor, Mike Collings, has had the pleasure of meeting with Joe at his place of work to celebrate all his successes in person. He also got the chance to speak with Joe's line manager, Matt Mitchell, who told us why he nominated Joe for the award.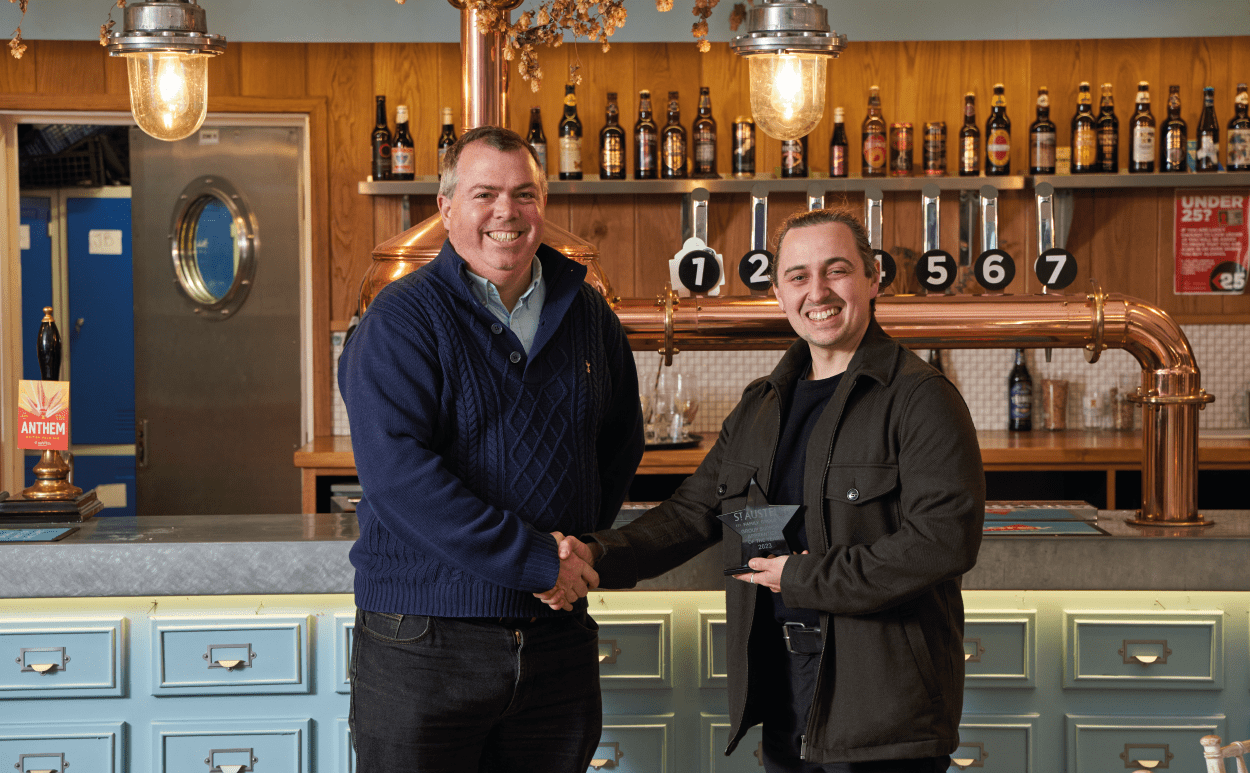 IT Manager Matt Mitchell presents Joe Thompson with his Group Support Award (Photo by St Austell Brewery)
"I nominated Joe for the Group Support Award, as within 6 short months he has become a fully-fledged IT Helpdesk Technician. He is now answering over 20% of our calls, which is a phenomenal amount for someone only in the role for 8 months.  He is a fully integrated member of the IT department, already going out to the site to do installs and helping the infrastructure team do network installs as well. He has developed a power app for our apps team and recently, due to his success in the department, secured a full-time project support role while continuing to complete his apprenticeship. He has pushed hard through his apprenticeship and has completed 58% of it already – with the expected target being just 32%.  Joe has proven himself a very capable individual and worked through some very personal adversities while doing his apprenticeship with the IT team. To deliver what he has is nothing short of brilliant in my book and that is why I am recommending him for this award."
Wow, what a shining recommendation! It is so good to hear from such a supportive line manager and we are always thrilled to work with businesses that nurture, develop and celebrate their apprentices in the ways that they should. You can read more about St Austell Brewery and their fantastic work with their apprentices here.
Now, let's hear from the award-winning apprentice himself! Tutor Mike sat down with Joe and asked him a few questions.
Why did you choose to become an apprentice?
"At the time I wanted to try something different, and I wanted to learn new skills. An ICT apprenticeship seemed to be suited to my interests. I really enjoy working with great peers and having great on-the-job training opportunities. I would definitely recommend this course to others."
We couldn't agree more! ICT Level 3 is such a great course to recommend because almost all businesses will rely on computer systems to some extent. This means that the optimal performance and maintenance of those systems is an absolute must. Which is where our Information Communication Technicians come in! You can find out more about the apprenticeship here.
The next question Tutor Mike had was about Joe's day-to-day at the brewery.
What does a normal day look like within the IT department?

"Each day starts with prioritising all the help-desk inbox emails, answering telephone calls, resolving IT issues, building laptops etc and proactively contacting other sites and pubs to ensure all systems are working as expected."
He then went on to tell us about his involvement in a new ERP system that is due to go live in November. It certainly sounds like a busy and exciting time for everyone at St Austell Brewery! It was an absolute pleasure to come and see for ourselves and to see again, first-hand what brilliant outcomes apprenticeships can lead to.
We wish them all the best of luck with the launch and continued success in everything that they do beyond that.
And, of course, an enormous well done to Joe. ⭐